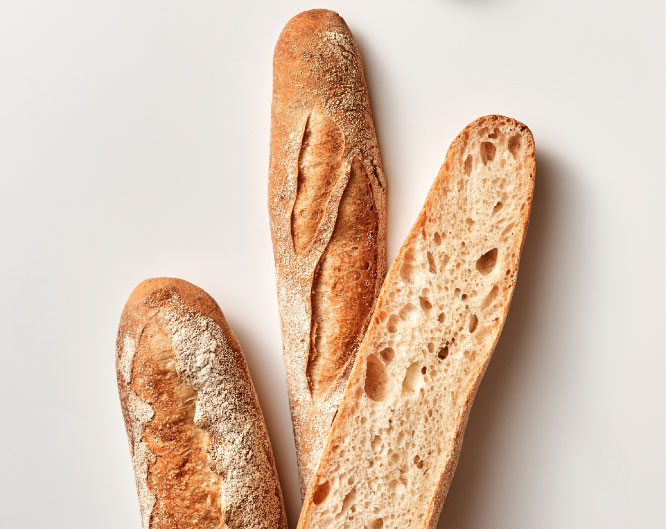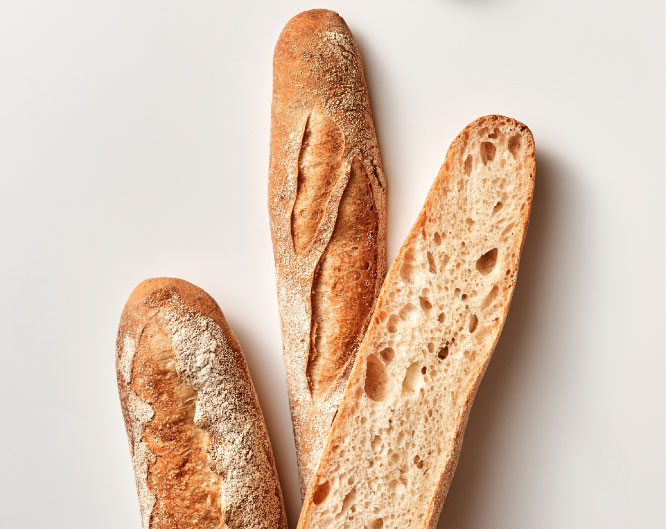 Engelmans Select
Baguette
Long, thin roll of French bread.
Bread Types Artisian Options Available
(see AR)
Expand / Collapse Detail
French
SKU: 2000 - 2 pack (24 inch) | Soft, mild French dough without any sour flavor and a hint of salt for a perfect balance of flavor. Place in the oven to refresh the thin golden crust and re-create that delicious crispy crunch.
SKU: 2002 - 2 pack sliced (24 inch) - (32 slices) | French bread bias sliced - 2/3 inch thick. Ready to be brushed with your favorite flavored oil or butter and baked for a quick and easy garlic bread.
SKU: 2006 - Extra Wide Baguette - 1 pack | Double the weight of our traditional baguette with the same delicious formula. The taste is a mild flavor without any sour flavor and a hint of salt. Not crusty, but place in the oven to achieve that crispy crunch. Perfect size to slice and serve with a deli tray.
Expand / Collapse Detail
Philly
Hearth-baked classic Italian dough with a slightly denser texture, mild flavor and a lightly crisp crust that is scored on top.
SKU's:
2005 - 24 inch - 2 pack 8 per tray
4029 - 8 inch - 18 pack 6 per tray
Expand / Collapse Detail
Steak Croutons
Our Ciabatta dough brings a mild flavor made in the perfect shape to slice, toast, or bake into croutons to serve with steaks or soups. It's a great size, flavor and texture to create a signature appetizer "toast." Available whole or already sliced a 7/16 inch thick.
SKU's:
2018 - 24 inch - 1 pack 10 per tray
2017 - sliced - 1 pack 10 per tray